Last week, one of my clients came to the clinic for her fourth and final, Virtual Gastric Banding session. Her first session, in which her 'band' was 'applied' had been five weeks earlier. Marilyn is so delighted with her results that she has made up a little photo album and asked me to share it with anyone who is interested. If anyone who reads this would like to speak to Marilyn, I can put you in touch.
This is what she wrote as the introduction to the album:
Hi! My name is Marilyn and this is my story of the first month of my VIRTUAL GASTRIC BANDING and the trials and tribulations that have occurred along the way.
Four weeks ago, I weighed in at 78.8kg and realised that nothing fitted in my wardrobe anymore – and what did fir was stretched to the limit. When I stood in front of the mirror and saw what I looked like in the dress I had bought for my grandson's wedding I just laughed because crying wasn't going to help me feel any better. I was busy telling my husband 'just pull up the zip' and he just said 'That's it kid.'
I had been told about this lady who had performed electropuncture for smoking on two of the girls from work and it worked so well. One of the girls had rung me to say she had met a woman, who had been to this lady for weight reduction and after what she told me I just thought 'this is it.'
I rang the lady and I spoke of my dilemma and she told me 'Not a problem; I'm sure I can help. I made an appointment and had to wait a week before I could see her – so more weight seemed to pile on.  I was at the stage where something had to work for me as I had no will-power at all where food was concerned. I'd become a couch-potato with no energy. My love of chocolate had become almost addictive and supper had become a never ending eating event.
Our first meeting started with the usual 'get to know you' routine. The she asked what my thoughts were on hypnosis? 'Not much' I replied 'I don't think it would work with me.' Seeing what electropuncture had done for the two girls at work, I had to think positive and I was ready to try anything that would help.'
This lovely lady now has a name, Chris Steadman, and what I didn't know was she was about to change my life.
My first hypnotherapy started with her gentle voice speaking to me and relaxing me and making me aware that at all times I knew what she was saying. This is not a deep trance or anything like that; it's just a quiet voice telling me positive thoughts and that my stomach would now be the size of a golf ball and that I would no longer crave all those foods that had made me so fat.
After the hypnotherapy session, I was introduced to Chris's massaging chair. Oh, what joy!! Fifteen minutes of heaven. If I wasn't relaxed enough after the hypno……..session, I certainly was now. And I feel great.
The next part was the electropuncture. She hit three points that I really felt rather strong: enough for me to say 'OUCH!!' That was interesting. The three points referred to my depression, my stomach and my eating. A tiny little plaster containing a small, round seed, was put on my outer ear. Tehn, with fond farewells and another appointment made, it was in the car and away. I felt no different driving home at all.
What happened when I got home was unreal. This frumpy couch potato put on a pair of walking shoes and went for a walk; the first of what was going to become a daily need to do. The next thing was, I didn't eat until tea-time – than only put my meal on a very small plate and then couldn't eat it all. Following that, no supper and didn't even think of it.
This pattern of my life has continued now for a month. I am no longer tired all the time; I'm much more relaxed with life in general. I can say with all honesty I have never eaten an ice cream, a piece of chocolate, a cake, a biscuit or a sweet.  These foods do not interest me at this stage. I do not feel the need for them. I have lost five kg in four weeks but have come down a dress size. I still have  a long way to go but believe my body will tell me when I have reached what I should be- but, having said that, I would like to see at least another ten kg disappear.
One thing I did every night was to go to bed listening to the Virtual Gastric Banding CD that Chris had given me. I feel this has helped me tremendously and reiterated what she had already told me.
What an absolutely amazing month. I feel great. My hubby, Keith, has been my motivator, who tells me time for my walk and is my photographer. My eighty-five year old mother, Betty, who lives with us, has encouraged me all the way – as have my two daughters and son, who have been great.
I feel if I can share this with other women and say honestly this is life-changing. You don't have to go under the knife for that horrible gastric operation. Believing in yourself is your first step.
Two words of caution: Firstly Marilyn is a successful client for whom the procedure has worked well. Her results can, by no means, be guaranteed for everyone undergoing the treatment. Everyone reacts differently to the procedures.  (I even have one client who, despite her eager yearning for success, the four sessions appears to have achieved no benefit whatsoever.)
Secondly, from the photos, Marilyn has clearly changed shape significantly. This doesn't mean that she has lost a massive amount of weight. She has, as per the suggestions made to her under hypnosis, not only changed her eating habits, but been taking regular exercise. This will have resulted in the loss of much fluid and the conversion of much of the fat into heavier muscle. The programme is for gradual weight-loss over a life-long change in life style. Anyone losing more than around a kilo a week, is liable to revert and put it all back again in the familiar yo-yo pattern. I urge my clients to resist the temptation to monitor their progress on the scales during the course of the procedure. The mirror and their daily energy levels and enthusiasm for life are far more accurate gauges of prog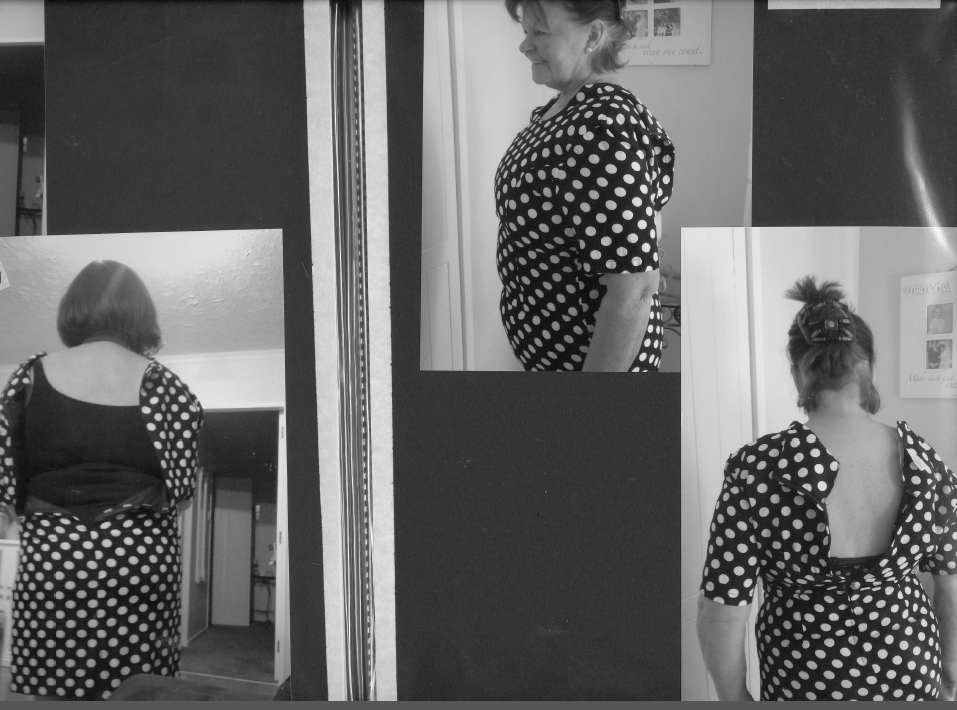 ress.