"I have just had my last session with Chris. What a wonderful caring person she is…I enjoy my healthier living and my loose clothes."  – Sherill
Trying to lose weight? Tired of endless yo-yo diets that never work? 
Ready to reclaim your self-esteem back?
Then you just might be into this: 
The Virtual Gastric Band
The Virtual Gastric Band is a non-surgical technique which uses the power of hypnosis to retrain you to be satisfied with smaller portions of food. It changes how you think about food and gives very safe, very predictable results. 
The clinical hypnotherapy tells the brain the stomach is full after smaller amounts of food, and that there's no need for any more.
Not Another Diet
It is most definitely NOT a diet – we know that diets only work in the short term. The Virtual Gastric Band allows you to eat what you want, but will be happier eating smaller portions. 
And, because it's not a diet, you won't feel deprived, miserable or hungry, the issues which cause diets to fail. As The Virtual Gastric Band effectively negates these issues, you are left with a long-term solution to your weight problems.
Alternative to Bariatric Surgery
By contrast, the surgical medical procedure reduces the physical size of the stomach, and may achieve the same result, but The Virtual Gastric Band can be undertaken quickly and privately, without the lengthy delay of hospital waiting lists, and of course carries no costly invasive surgery, no risks and no on-going medical treatment, and is an alternative to real bariatric surgery.  
It is very safe, has no side effects, does not involve the use of drugs, it is completely painless, and there is no need to take time off from work in order to recover.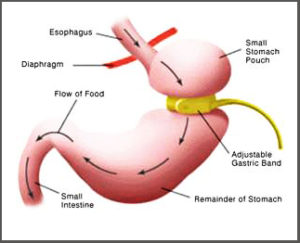 Virtual Gastric Band Certified Practitioner
Chris Steadman is a certified practitioner of the programme, devised by Sheila Granger, a foremost UK hypnotherapist, and which is renowned for a 95% success rate worldwide. 
The programme is run over 4 sessions, so you will need to book into one session per week for the four sessions. The sessions are held on a one to one basis. They are not group sessions. 
The first hypnotherapy session runs for approximately one hour forty five minutes, and sessions 2, 3 and 4 run for  between one hour and one hour fifteen minutes each.
The Virtual Gastric Band is hypnotically installed in the first session, and following the first session, desired food portion sizes are reduced, leading to effortless, predictable weight loss.
Still not convinced?
Check out some real client virtual gastric band success stories here and here.
Hey Chris here,
I frequently get clients asking me for all sorts of different treatments,  like "does hypnotherapy work for anxieties and phobias?", or "is there a stop smoking hypnotherapy?". The answer is yes and yes, and I've even developed a hypnotherapy for shy bladder treatment. 
Life is hard enough as it is, we don't need useless bad habits holding us back, and slowing us down. Take back the control. Get in touch and let's talk. 
You can find me right here in Blenheim NZ, near the Marlborough Sounds, even saving you the long trip to Nelson or Christchurch! 
Chris Steadman
Clinical Hypnotherapist
To stay in the loop please follow and like!