Welcome to Ntrance Hypnotherapy Blenheim 🙂
Hypnotherapy Blenheim: Weight Loss | Stop Smoking | Overcome Anxieties
Hi my name is Chris! I  run a small hypnotherapy clinic from 34 Pitchill Street in Blenheim where I see clients face to face. But during these extraordinary times, when more and more people will be needing help, I am now also  running online sessions through Zoom. For those of you who haven't used Zoom before, it is really simple. All you need is a PC or laptop with audio and video facilities (or web camera with microphone), a comfy chair, preferably with arms, and a quiet space.
You can download Zoom here: www.zoom.us/download . It is free, and very user friendly, though we will allow time for you to familiarise yourself with the system before we start, and to talk you through should you need it. As always, the key is to relax, so there won't be any pressure. And within minutes, you can imagine yourself sitting in my lovely comfortable chair!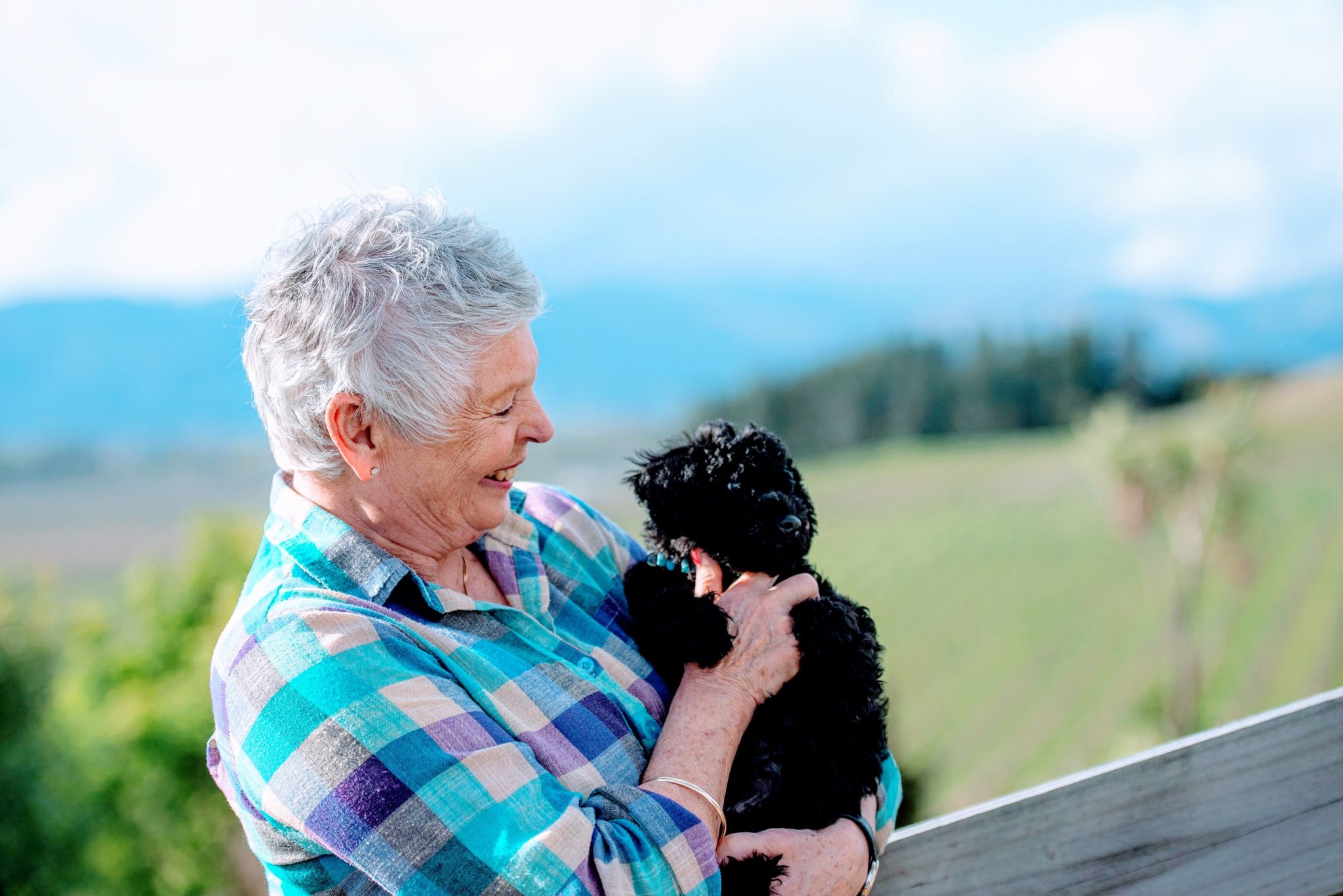 What is hypnotherapy? Forget all the stage hypnosis none-sense you've seen in the media. This is simply about your relaxation.
Quiet, soothing, relaxing, this is a space designed specifically with your comfort in mind.
Check it out, I've even got a ridiculously comfy couch just for you!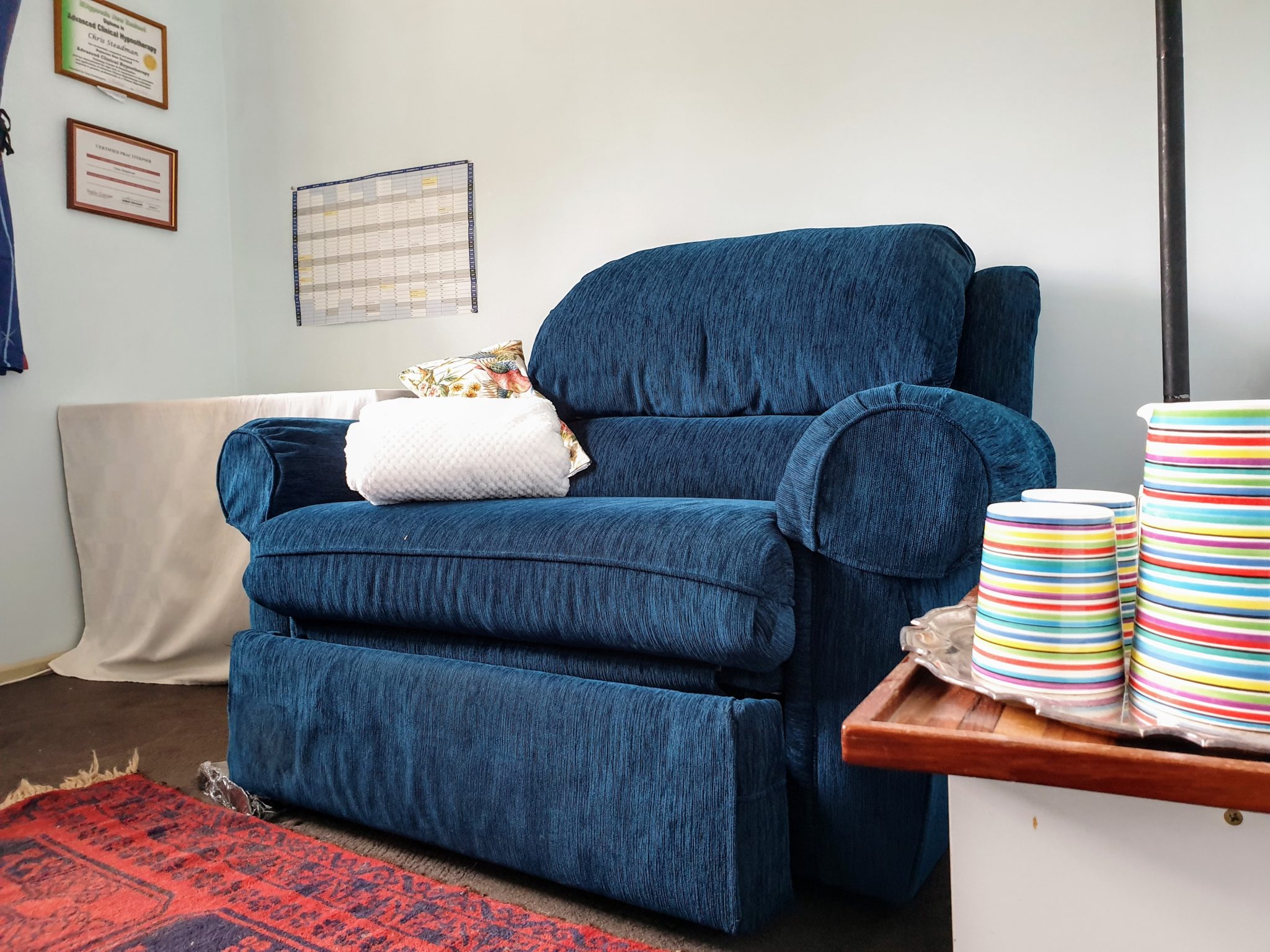 I get clients asking me about all different treatments. The most common questions I get are: "does hypnotherapy work for weight loss?", or "can hypnotherapy help me to stop smoking?"
I'm very proud to say that Ntrance Hypnotherapy Blenheim has successful programmes for both! See here for weight loss hypnotherapy, and here on hypnotherapy to stop smoking, and here for my raving client reviews!
If you're ready to take the next step, or want to find out more, let's talk.
Life is hard enough as it is, we don't need difficult habits holding us back.
You can find me right here in Blenheim NZ, even saving the long trip to Nelson or Wellington!
021 671 195
Clinical Hypnotherapist
Ntrance Hypnotherapy Blenheim
I know the words hypnosis and hypnotherapy have become culturally weighty words, which can instantly make people feel apprehensive. A reasonably concerned person might wonder "Will I be made to walk shirtless across a stage..or worse?".
I want to assure you right now that that is all stage hypnosis designed for entertainment. What I do is nothing like that.
What I do is specifically designed to get your mind into a comfortable state of relaxation, so you openly accept new ways of living, for example, being content eating smaller portions.
ps…not in the Marlborough/Nelson area? My son Daniel runs a fully online hypnotherapy clinic near Wellington.
To demystify further, here is a TEDx Talk by Ben Cale explaining the mystery behind hypnosis.
What Even Is Hypnotherapy?
Hypnotherapy brings you into a deep state of relaxation. Your mind calms and it enters a state of increased suggestibility.
Relaxation is key to clinical hypnotherapy, as the mind is not able to adapt to new realities while agitated (and besides, with all the stress in our lives, who couldn't use a little relaxation anyways?).
A lot of the stigma around Hypnotherapy is the fear of being "mind controlled", and with all the false depictions in the media, it's understandable why people think this way. A better way to think of it, is that as the mind relaxes, it feels safe, and is willing to try new things. As suggestions of eating less, or stopping smoking enter the brain, these feel like warm and welcome ideas.
Is It Painful To Be Under Hypnotherapy?
While you are under hypnotherapy, you will still hear everything that I say, and what may surprise you is that you'll remember everything as you would from a typical conversation you have.
Think of the last conversation you had last night… how much do you really remember anyway? While in hypnosis you will hear everything I say but it may or may not be important for you to remember fully what has been said. Hypnotherapy is simply the same.
You'll likely feel at ease and rested at Ntrance Hypnotherapy Blenheim. It's normal to feel a slight floating sensation, feeling comfortable and safe in your comfy chair.
Everyone experiences hypnotherapy differently, there is no one size fits all. How you experience being under hypnotherapy will be different each time, and each individual will come away with slightly different experiences. This is not something to be worried or concerned about, but rather a celebration of your own personal healing journey.
Your mind may wander while under hypnotherapy and this is all perfectly normal and to be completely honest, expected. There may be times when you feel the need to move or make adjustments in your posture, and I want you to know that this is all perfectly okay. I never want you to feel stressed that this has to be "perfect". It's more important that you feel comfortable and relaxed.
Will I Lose Control Under Hypnotherapy?
Some people worry that clinical hypnotherapy is some kind of mind control and that they'll end up losing control. There's a fear that you'll be made to do silly things, or that you won't remember anything that happened after the fact. This couldn't be further from the truth.
What we are really doing is relaxing your mind and speaking to the deeper parts of your brain which keep up with unwanted behaviours and habits. Whether it's anxieties, fears, phobias, weight loss, stopping smoking or quitting drinking, the mind has a way on it's own of repeating behaviours, whether you want it to or not!
Hypnotherapy gives you a tool to break that cycle and take take control of your life. Feel the desires for negative habits melt away as your growing sense of empowerment fills your whole way of being.
You do not get "put to sleep" under hypnosis. You remain fully awake and present, just simply more relaxed. This is not a state you can get stuck in. You will come out of hypnotherapy readily and freely, excited for the new changes coming in your life.
How Can Hypnotherapy Blenheim Help Me?
We all have important goals and desires we want to achieve in our lives. The beauty of clinical hypnotherapy is that it helps to keep your mind focus on the big goals you set for yourself.
As a clinical hypnotherapist, I simply help you to see your own inner strength for the purposes of accomplishing your own goals.
Before our session, I'll have a private consultation with you, where we work together to understand your specific needs and desires, and to develop a personalized hypno-therapeutic plan in accomplishing your goals to become the person you want to be.
How Do We Get Started With Hypnotherapy?
Hypnotherapy is all about helping you to move forward in your life. I'm here simply to help you to get results.
Each programme is tailored to your specific needs and what you're working to accomplish in your life. Whether you have fears or phobias, such as fear of flying, fear of spiders, fear of sharks, fear of heights or fear or fear of urinating in public restrooms, or you have habits you're trying to overcome such as eating less, reducing sugar in your diet, drinking less, or smoking less, my specially designed programmes are designed specifically with your needs in mind to help you achieve your goals.
Before our first session, I offer time for us to sit down and to better understand your needs and how I'm able to help you. This simply helps to make sure that we pick the right program to your needs.
Please keep in mind, I have an extremely comfy chair and your comfort is my top priority 🙂
How Long Does Hypnotherapy Take To Work?
Without making too big of a deal of it, you'll begin to feel the effects of hypnotherapy immediately. Keep in mind, that every client experiences their hypnotherapy sessions differently, however I typically hear clients talk about leaving feeling lighter and more inspired in their lives.
Many of my programmes require 2-4 sessions, and overtime, those feelings that you had leaving your first session, will start becoming your new normal. Feelings of bravery, courage and a desire to live a better life, will simply enter your life without you consciously having to make it happen.
It's when client's excitedly call me up and tell me about the new lives they've started living that fills me with a tremendous sense of pride. I really enjoy watching my client's succeed in their new lives.
I've Seen Stage Hypnotists And People Acting Funny On Stage, Will That Happen To Me?
Good heavens no! It drives me slightly mad the way the media has portrayed stage hypnotists. Keep in mind, these performances are simply for entertainment purposes only!
Our sessions at Ntrance Hypnotherapy Blenheim are simply about relaxation. I'll never ask to you do anything silly like jumping around like a maniac or talking in tongues, that's just not what I'm interested in here.
My purpose is simply to help you along on your journey of growth in your life. That's it.
My therapy room is designed specifically with your comfort in mind. I have a big comfy couch you can relax in, and I help you to ease away the stress of your day. Once relaxed, I begin gently communicating with your subconscious mind, and start instructing it on how you want to start living your new life.
Whether that is drinking less, stopping smoking, eating less sugar or simply being comfortable in public places, I'm able to guide your subconscious mind into new states of comfort and confidence. My purpose is to help you leave with a renewed sense of purpose in your own life to take control and begin living the life you really want.
So reach out and let's talk. I'm surprisingly friendly too.
Chris Steadman
021 671 195
Clinical Hypnotherapist
Ntrance Hypnotherapy Blenheim
Weight Loss Hypnotherapy Blenheim
Wishing you could get your body confidence back?
The Virtual Gastric Band is a revolutionary weight loss program pioneered by Sheila Granger. The best part of this programme is that it's non-invasive and does NOT require surgery!
The program simply uses the power of the mind that every individual already holds within them to make real change in their lives.
People of all shapes and sizes find long term solutions to their desire to lose weight with Virtual Gastric Band Hypnotherapy.
Best of all, the programme is now available in Blenheim and Wellington!
Ntrance Hypnotherapy Blenheim: The Virtual Gastric Band
This technique which uses the power of hypnotherapy to train the mind to be satisfied with smaller portions of food. That's it.
Feedback from clients has shown increased willpower and there's no need to deprive themselves of the foods they enjoy. Weight is lost naturally and consistently without 'dieting'.
As a special bonus we offer each client a personal MP3 player featuring their own support audio track, and include earbuds and recharge cable. This is all about your long term success.
Quit Smoking Hypnotherapy Blenheim
Ready For Your Last Cigarette Ever?
Quitting smoking isn't just about the health benefits. It's also about not having that permanent stench of tobacco following you around, it's about your partner being happy with you, and your kids looking up to you and respecting you. Do you feel you're leading by a good example showing them you as a smoker? Don't you wish you could show them a better side to you?
The Ntrance Hypnotherapy Quit Smoking Programme is even easier than it is to lose weight. The reason for this is very simple.
Smoking is simply a "Yes" or "No" decision. Do we need to smoke to survive? The simple answer is "No!"
But we still need food to survive. So the decision around weight control can be much more complex.
Ntrance Hypnotherapy Blenheim: Quit Smoking Programme
At Ntrance Hypnotherapy Blenheim, we identify the smoking parts of your mind, changing habits and bringing about permanent change. This takes place over a two week period.
It takes time for the mind and body to process and introduce new habits,  preparing for the new life you're about to live.
This programme is designed to bring about permanent change for you. By completing the programme, it is the intention that you are now a non-smoker.
The cost: probably just a fraction of what you are already spending on cigarettes!
The second session now reinforces that you have had YOUR LAST CIGARETTE EVER. Ready for change?
Chris Steadman
021 671 195
Clinical Hypnotherapist
Ntrance Hypnotherapy Blenheim
Clinical Ntrance Hypnotherapy Blenheim and Wellington
Reviews For Ntrance Hypnotherapy Blenheim
When I saw Daniel it was simple and easy, it took two sessions but I now have zero interest in cigarettes. It was pretty easy and relaxed. I would recommend Daniel's help to anyone who want's to kick the habit. - James

***********

Wow!! I am writing this on behalf of my Mum who has been a heavy smoker for 25+ years. It has been 3 weeks since she went to see Chris at the Ntrance clinic and she has not touched a cigarette since. The most amazing thing is that she is not suffering any cravings or withdrawal symptoms. I am absolutely impressed!!! Thanks Chris

*****

I found my "Quit Smoking" appointment with Chris comfortable and non-invasive. There were three parts to the session, and I felt at ease and well informed throughout the appointment. For those who want to quit I totally recommend seeing Chris, and allowing her to help you let it go without stress or anguish.   Chris's process will help you relax and look forward to brighter cleaner future. - Barbara

*****

Today is my 4th week since quitting. I have been relaxed, and have had very minimal withdrawal. When I have felt a craving coming on, or even a thought of smoking, I just touch the little seed on my ear and it disappears straight away. The first 5 days have always been the hardest when I have tried quitting in the past, but I have navigated my way through these with ease this time. I am now looking forward to the extra money and time I have to spend on what I want, instead of wasting it on my ex-dysfunctional old friend, the Wee Willem Cigar, who was sucking the life out of me. I was smoking at least 8 of these a day. They are very strong, and would make most of my cigarette smoking friends cough up a lung with just one puff on my cigar!

The second pressure point Chris put a seed on was for when you get the crazy, frustrated "quitting anger" which never really came. I did touch this point on a couple of occasions, just for normal life stuff that would have made me annoyed, but I found this to be a very calm quitting process. My teenagers and my husband were all set to duck for cover, knowing I was quitting, but they forgot I had quit after the first day, because I wasn't showing any side effects, and I was very calm. I have noticed my food intake has remained the same, if not a little healthier, and find myself drinking more water.

For those who want to quit any dysfunctional old friend who has been dragging you down, I totally recommend making an appointment with Chris, and allowing her to help you let it go without stress or anguish. We all have a million and one excuses and reasons to keep us smoking, but there are some huge reasons to quit are you brave enough. Do you know the cigarettes are lying? You can have a coffee and even talk on the phone without them. You can even forget about them. Chris's process will help you relax and look forward to brighter cleaner future.

Barbara

*****

I am doing really well since you saw me. So now I will be booking my daughter in too as she is so impressed. Thank you so much.

Claire

*****

Still not smoking, I live with 4 smoker's and them smoking means nothing to me it's not a need or a want anymore, I would even go as far as saying the thought of smoking again is sad to be trapped in a need. I had an operation recently and didn't have to worry about the guilt of ticking the smoker box. Thanks Chris

Barbara
Quit Smoking
After hearing the many ways hypnotherapy can help people I asked Daniel to help with my sugar addiction. Every meal HAD to be followed by a cake chocolate or desert (sometimes all three) and I was skeptical that being hypnotized could change my life long habit. But two 30 minute sessions later and I am in control of my eating. I don't feel any different as a person but the internal struggle when it came to sugar just isn't there anymore!

*************************************************

Went to Daniel for assistance with sugar addiction (confectionery, ice cream overindulgence). Having never been hypnotised before, Daniel made feel comfortable invited and answered my questions about ways that he could assist such as, background for relevant key areas that he could use during hypnosis such as midnight cravings, temptation, guilt.
Results:
Definitely reduced my cravings making me skim over the confectionery supermarket isle and helped me stay as sugar free as possible in relation to confectionery/ice cream overindulgence. Just need to keep at it for it become cemented as an automatic response/habit

Iain Campbell  20/11/2017

****************************

It's been 2 weeks now since I saw Daniel for Sugar Addiction hypnosis. People who know me would have had no idea how much chocolate, biscuits etc I would eat on a daily or weekly basis. I was one of those closet sugar cravers, I would eat 2 big blocks of chocolate in one weekend, as well as numerous small bars throughout the week, as well as biscuits and other sweet treats. I was one of those people who would buy a packet of mint slice biscuits from the supermarket and would have eaten over half of them on the 5 minute drive home. I thought my sugar addiction was funny for a while, but then I realised it was quite out of control and incredibly bad for me and my health. So, I went to see Daniel just before Easter 2018 for the Sugar Addiction hypnosis, he also incorporated mindful eating as when I have quit sugar on y own in the past, I would then binge on chippies, and then go back to the chocolate. Anyway, the Hypnosis worked absolute wonders for me, I am not interested in any of the foods I used to crave, I haven't even sniffed chocolate since my session with Daniel, the thought to and the cravings are just not there anymore. I am so happy, lots of people don't take sugar addiction seriously, it really impairs our health. I have zero headaches now, my digestive system functions better, no candida issues, less brain fog and zero energy crashes mid-afternoon. So, if you want to kick your sugar habit forever, once and for all, I would totally recommend going to see Daniel in Wellington. 

 

Thank you Daniel.  

Catherine Chapman 5/4/2018
Sugar Addiction
It is now about 3 months since I completed the course with you.  I find the whole experience fascinating.  I am now lighter than I have been for 20 years. I feel great and I am now back at the gym.  In 3 months I have lost 2 and a half inches off my bust and 1 inch off my waist. In all so far 14kgs. It has been quite slow but really steady. I cant believe how easy it has been as no dieting at all.

I eat everything I used to eat except smaller helpings and no feelings of being deprived.. I still have 2 glasses of wine every night at dinner time. I have to admit  I have generally eaten quite healthy meals in the past, But large helpings and a lot of tasty snacks. My doctor was amazed that I actually lost weight over Christmas! It does fascinate me how the desire for snacks has disappeared and how full I feel after a meal. I do try to listen to the tape around twice a week .

Thank you again for the help you have given me.

 *****

Evening, Chris. Just touching base with you. I haven't gone near the peanut butter or the raspberry jam mokos. the boys had fish and chips last night. I had a wrap. Wasn't interested in fish and chips at all. No migraines so far. I am happier maybe because I am eating better. Thank you sooooo much!. Looking forward to the following up. You rock! I have passed you on to a few friends and family members that really do need you to help them. thanks so much!

*****

I have just had my last session with Chris. What a wonderful caring person she is. I have now got real control over my life. My stress levels have been reduced and I am now able to deal easily with how I choose to live and eat. I now enjoy life to the full and find I bounce through my days and I can deal with the high stress people and jobs calmly. I enjoy my healthier living and my loose clothes. I recommend this programme to anyone who needs some positivity and control in their lives.  – Sherill

*****

I went to Chris for weight-loss hypnosis. Chris was professional, easy to talk to & helpful. It was a relaxing, well structured session. I have found that I am not eating as much as before and what I am eating is good healthy food. – Lynda

*****

Normal for me would be piling my plate up with food, and getting my way through that with gusto, and then find seconds the moment I could move. That has stopped, I am serving myself less, and not even finishing what is on my plate. I am drinking more water and already starting to feel healthier. I can't wait to see the changes within a month, 6 months or a year! Chris is super friendly, and the clinic is lovely and relaxed, and the chair you are in is just mind blowing great! ( I would love to take that home with me!) So if you have any addiction issues you would like help mastering, I would totally recommend Chris. – Michelle

*****

11 weeks since my first appointment with Chris and I have lost 11.4kgs as of today! Thanks again Chris to helping me on the path to better portion control and less sugar. – Vanessa

Weight Loss
About nine months ago I was involved in a car accident. It wasn't terribly major – we just clipped a parked car while passing. Air bags went off, car written off because of the axle and dashboard. Since then, I have had not been comfortable at all in the passenger seat of any car; it becomes an act of great will to sit there and not look uncomfortable and tense when getting driven here or there.

After a single session with Daniel, this has completely faded. I have just returned from a trip up to Hamilton for work, passenger seat bound the entire way, and upon arriving back it occurred to me I didn't even notice or think about the feelings. Furthermore, I have felt a lot more at ease with driving myself, it was something I didn't even know was worrying me but I definitely notice the difference now that it's not.

During the session, Daniel was very open and professional, fully explaining his methodology and the steps that we were going to take. I felt very comfortable during the whole experience and the results have completely blown me away.

I would highly recommend Daniel and his method of Hypnotherapy to anyone with anxiety or the other huge list of things he can help with.

Alistair Morrison

                                                                                   ******

Fantastic service. A unique,relaxing and non invasive technique that works!!! lovely environment. i felt completely at ease with the whole treatment. Highly recommended to anyone suffering from addiction or anxiety. Kelly
Anxiety
Dysphagia is a condition in which the throat goes into a spasm and prevents swallowing. The sufferer can neither drink nor eat. I suffered an attack. After twenty-four hours of being unable to take in any liquids or solids I was preparing to go into hospital when it was suggested that Ntrance might be able to help. Within five minutes acupuncture the blockage disappeared and has never since recurred.
Walter
Dysphagia
I realised I had a drinking problem but found it too difficult to quit. However, I had no idea it could be so painless to change a life destroying habit. If you know you have to stop, contact Chris immediately. Charlotte

*****

I have no idea what fairy dust you sprinkled, but I have had neither drink nor pastry for a whole week! Thank you and have a wonderful festive season, Kindest regards Helen

*****

I knew I had an alcohol problem. Having previously tried to quit using every method under the sun, including traditional Chinese acupuncture combined with neuro emotional treatment and failed, this method was not only utterly painless and takes less than an hour, but also turned out to be amazingly effective. I haven't touched a drop of alcohol since my treatment with Chris.
Cambell
Gave up alcohol