Last month saw a landmark in the development of Ntrance. The second Ntrance clinic (re)opened its doors for business (with a slight twist!). What was Capital Ntrance has now been recreated and relaunched as Capital Hypnosis New Zealand!
New Zealand's first fully online hypnotherapy clinic.
Our son Daniel, having successfully completed his training and trialled his skills and techniques among his large circle of friends and acquaintances in Wellington, has now successfully treated his first paying clients. His clinic is located in Karori, Wellington.
I copy below the article that was published in the Independent Herald. Capital Hypnosis will be using the same, highly effective, joint hypno- and electro- therapy Ntrance procedure that we have pioneered in Blenheim.
It is Ntrance's long-term ambition to gain official recognition of the effectiveness of its procedure from the Ministry of Health and the world of orthodox medical practitioners.
We know that we could save some medical patients unduly prolonged suffering and, at the same time, save the health service considerable costs. All that needs to happen is that, for certain conditions and certain patients, our therapies should be the first, rather than as they so often are, the last resort for treatment.
To demonstrate this effectiveness, we need to build a nation-wide network of equally competent practitioners using the same procedures with the same successful results. To that end, we hope that the Karori clinic will be the first of many expansions.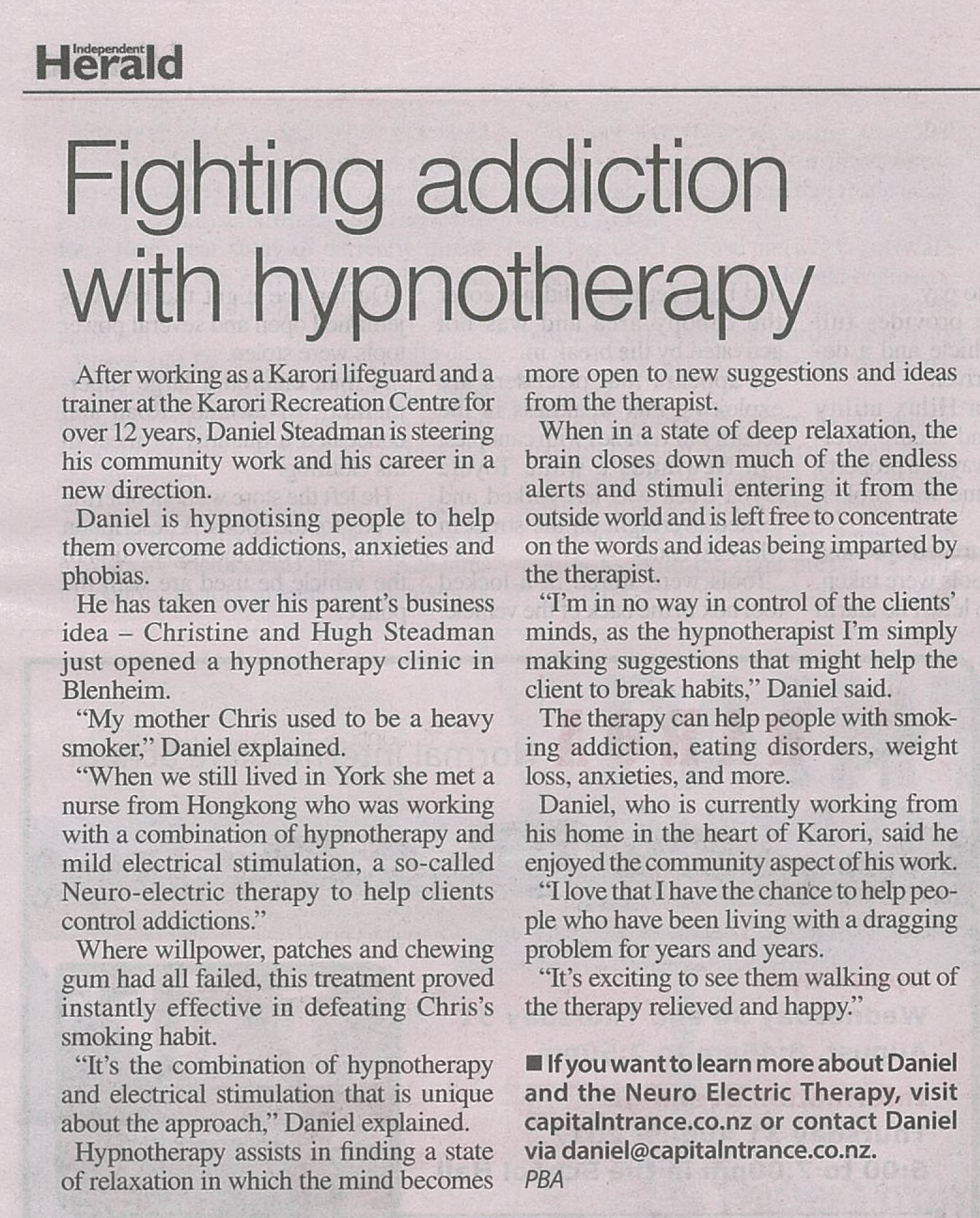 Hey Chris from Ntrance here,
I get clients frequently asking me "but does hypnotherapy work for fears and anxieties?". Now I love helping clients overcome their phobias and irrational fears, so I wrote this little post.
There's so many things in life that we don't need to be afraid of, and if you feel you want to overcome your fears that are holding you back, (and there's no shame in admitting it!), I'm right here for you in Marlborough NZ.
Fear and Anxiety Hypnotherapy Clinic
Ntrance Hypnotherapy Blenheim
To stay in the loop please follow and like!