Sugar Addiction Success Story:
I was fortunate enough to get this article published back in 2017. Celeste was a wonderful client, followed all my 'rules' and as a result had remarkable results!
Hypnosis An Opportunity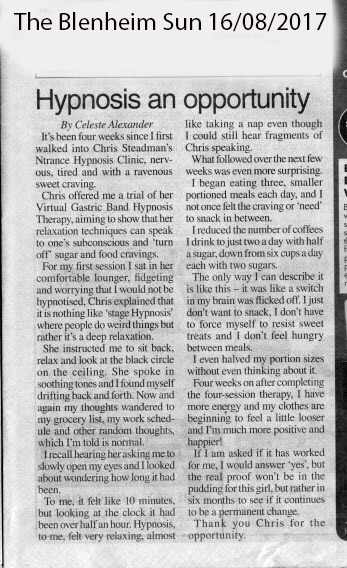 From Celeste: "It's been four weeks since I first walked into Chris Steadman's Ntrance Hypnosis clinic, nervous, tired and with a ravenous sweet craving.
Chris offered me a trial of her Virtual Gastric Banding Hypnosis Therapy, aiming to show that her relaxation techniques can speak to one's subconscious and 'turn off' sugar and food cravings.
For my first session I sat in her comfortable lounger, fidgeting and worrying that I would not be hypnotised.  Chris explained that it is nothing like 'stage Hypnosis' where people do weird things but rather it's a deep relaxation. She instructed me to sit back, relax and look at the black circle on the ceiling. She spoke in soothing tones and I found myself drifting back and forth. Now and again my thoughts wandered to my grocery list, my work schedule and other random thoughts, which I'm told is normal.
I recall hearing her asking me to slowly open my eyes and I looked about wondering how long it had been. To me it had felt like 10 minutes, but looking at the clock it had actually been over half an hour! Hypnosis to me, felt very relaxing, almost like taking a nap even though I could still hear fragments of Chris speaking.
What followed over the next few weeks was even more surprising. I began eating three, smaller portioned meals each day, and I not once felt the craving or 'need' to snack in between.  I reduced the number of coffees I drink to just two a day with half a sugar, down from six cups a day each with two sugars.
The only way I can describe it is like this – it was like a switch in my brain was flicked off. I just don't want to snack and I don't have to force myself to resist sweet treats and I don't feel hungry between meals.
I even  halved my portion sizes without even thinking about it. Four weeks on after completing the four-session therapy, I have more energy and my clothes are beginning to feel a little looser and I'm much more positive and happier!
If I am asked if it has worked for me, I would answer 'yes' but the real proof won't be in the pudding for this girl,, but rather in six moths to see if it will be a permanent change.
Thank you Chris for the opportunity."
Sugar Addiction: How To Break The Habit?
Here's a video I found by Samantha Kozuch that breaks down what sugar addiction is, and some steps to help reduce the cravings. This is a great place to start as a do-it-yourself solution to get the ball rolling.
My job is to help boost your will power through those difficult days. Knowing what to do is the first step, and having a support structure to keep you strong and accountable is the next step!
A Lovely Sugar Addiction Success Story
I get clients frequently asking me "does hypnotherapy work for weight loss and to cut sugar addiction cravings?"
Helping clients get control of their sugar addiction cravings is one of my specialties, but don't just take my word for it, here's one of my favourite virtual stomach gastric band success stories from right here in Marlborough NZ. 
Sugar Addiction NZ Hypnotherapy
To stay in the loop please follow and like!